Gordon Rogowitz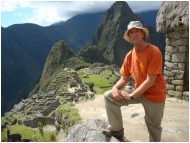 At Machu Pichu

Gordon's books

consider approaches to freedom in life and the actions people take to create a kinder world. Much of his writing concerns the interplay of nature, technology and humanity. His novel
A Returning Wind
is the journey of a man compelled to seek answers in nature, whereas his non-fiction book
Finding Balance: Stepping Stones for Enlightened Living
is a book of reminders on finding happiness in life. Gordon's writing has been influenced by Henry David Thoreau, whose cabin on Walden Pond was located near his birthplace in Massachusetts. Today he lives in northern Arizona, which still retains the kinds of mysteriously pristine landscapes Thoreau so greatly admired. Gordon's work reflects his background as an ecology professor.
It also reflects his love of traveling and meeting people of different lands, which led to the writing of
Quikquide to Independent Travel
,
a guide to experiencing the world on one's own.
Gordon is also a sculptor. Please refer to the following website:
art.rogowitz.com
---